Interview with Normand Champigny, President & CEO of Sphinx Resources Ltd. (TSX-V: SFX): A Canadian Mineral Exploration Company and Project Generator Operating in Quebec, Canada (PDAC Booth # 2213B)
By Dr. Allen Alper, PhD Economic Geology and Petrology, Columbia University, NYC, USA
on 2/22/2017
Sphinx Resources Ltd. (TSX-V: SFX) is a Canadian mineral exploration company and project generator, operating in the province of Quebec, recognized as an attractive mining jurisdiction worldwide. We learned from Normand Champigny, President & CEO of Sphinx Resources, that they have assembled a team of mine finders and have three projects they will be drilling in 2017. They believe they have all the ingredients to make a discovery. Sphinx is focused on acquisition and deal flow, with strategic partners, while maximizing drilling budgets on highly prospective targets. Projects are designed to advance low-cost, high-grade precious metals and zinc projects, within proximity of existing infrastructure or previous mines.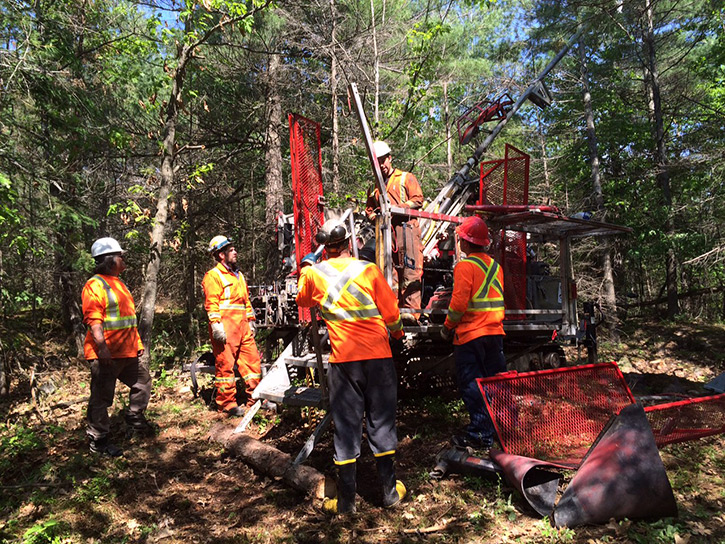 Dr. Allen Alper: This is Dr. Allen Alper, Editor-in-chief of Metals News, interviewing Normand Champigny, President & CEO of Sphinx Resources Ltd. Could you give our viewers an overview of your company and its focus?
Mr. Normand Champigny: Thank you Al. We are a TSX-V listed company, a project generator focused on Quebec, where we have assembled a team of expert mine finders. We have three projects that we will be drilling in 2017 and we believe we have all the ingredients to make a discovery.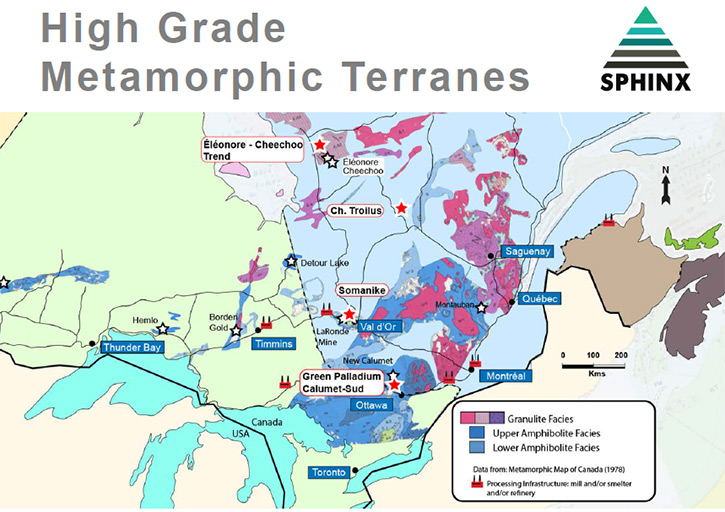 Dr. Allen Alper: Excellent! Could you elaborate on some of your current projects?
Mr. Normand Champigny: In connection with the Calumet-Sud project in southern Quebec, we have a partner called SOQUEM. SOQUEM is Quebec's mineral exploration agency that has a track record of putting eight mines into production, which include a diamond mine partnership that started production last year. We will start drilling with them in March on the Calumet-Sud project, a zinc project where we have identified undiscovered zinc on surface, supported by new and extensive zinc/lead geochemical and geophysical anomalies. All are untested. We're about 2 kilometers south of the new Calumet Mine, a past producer that produced zinc and precious metals for 25 years. We know we will actually have zinc from day one of drilling, since we have it on surface. The question is how much and at what grade.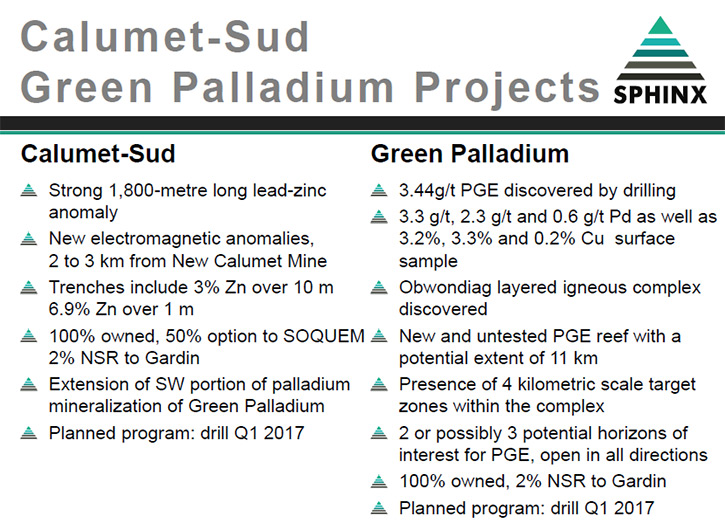 We also are working with another partner, Sirios Resources that won discovery of the year in Quebec in 2016 because of their Cheechoo gold discovery in the James Bay area of central Quebec. That's where the new Eleonore goldmine has been producing for a few years, which was discovered by Virginia Gold Mines Ltd. One of the team members of the Eleonore discovery was Michel Gauthier. Michel is a well-known geologist in Quebec and also the largest shareholder of Sphinx. We decided to join forces from day one with Sirios forming a 50-50 joint venture so we can share expertise on a unique geological opportunity along the trend of the gold discoveries in the area. Sirios has a camp facility, where they are now drilling 12 months of the year to advance their own project. In the fall of 2016, we collected some till samples to test the gold potential and we will get the results on those samples in February. Then we're planning a follow-up program for the mid-spring/early summer of 2017 to identify drill targets. We have proprietary geological reasons that we acquired the extension of this trend, which includes the Cheechoo discovery and the Eleonore mine.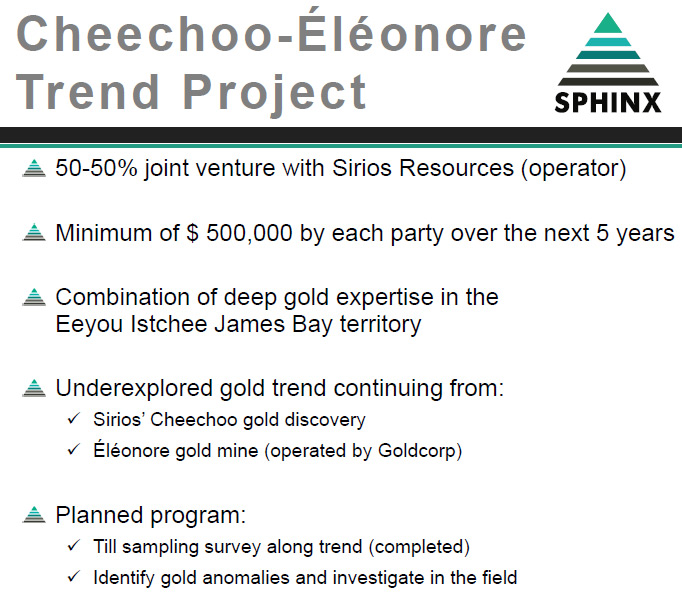 We also have the Chemin Troïlus project, situated in the same corridor in which the Troïlus mine was previously operated in the 90's and produced two million ounces of gold and byproduct copper. We have identified boulders on the surface that are mineralized with gold and also a little bit of copper, and that's exactly how the Troilus mine was found. The person, who spearheaded the discovery team for the Troïlus mine, three decades ago, is on our team as a key advisor. Our plan is to conduct geophysics and some drilling on this prospect in the summer of 2017.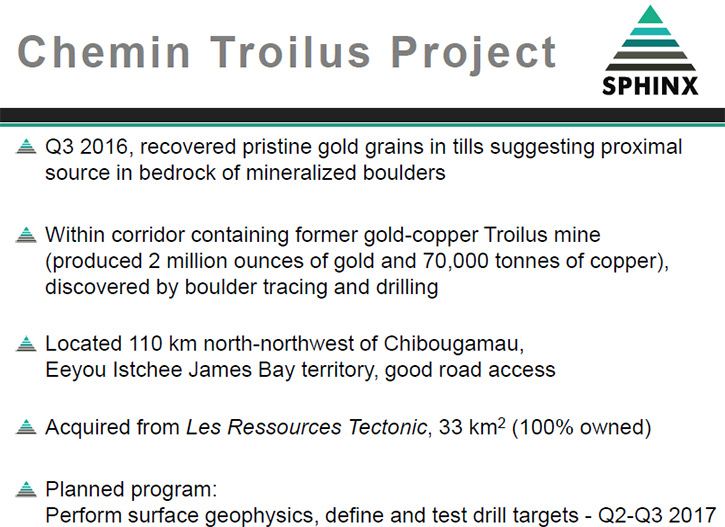 Next to and continuous to the Calumet-Sud zinc project, we have the Green Palladium project. It is in a very different geology. We have done some initial drilling and we have a mineralized reef that's outcropping the surface. We have identified up to three grams per tonne of palladium and high-grade copper. We know we can follow mineralization and hopefully find more by doing more drilling. So we will drill it immediately following the drilling program on the Calumet-Sud zinc project.
So, there will be drilling at Calumet-Sud, there will be drilling at Green Palladium, there will be drilling at Chemin Troïlus, and there will be considerable progress on the Cheechoo-Eleonore project during 2017.
Dr. Allen Alper: That's excellent. That's a very strong program you have. Could you refresh the memories of our readers on your background and your strong team.
Mr. Normand Champigny: Yes, our team has lots of experience. Michel Gauthier, well known geologist in Quebec, was part of the Eleonore gold mine discovery team when he was working with Virginia over a decade ago. We also have Kerry Sparkes on the board of Sphinx. Kerry was involved with the Voisey's Bay nickel discovery, now operated by Vale and the Rainy River gold discovery in Ontario. His current day job is V.P. Geology at Franco-Nevada. Thirdly, we have Robin Adair, lots of experience at Falconbridge/Noranda, part of the discoveries at Raglan Nickel in northern Quebec, and also the Bracemac-McLeod zinc mine in Quebec. These are the three mine finders.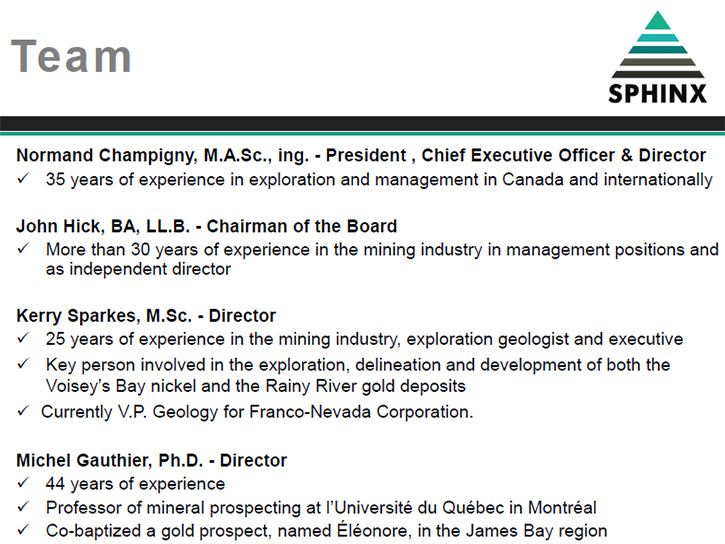 We also have John Hick; lots of experience as an executive and director of many companies, knows Quebec well and has worked with a number of Quebec companies. We have Ingrid Martin, our CFO. She's also CFO of other companies here in Quebec. Lots of experience. We have Francois Biron who's a new addition. Francois is a mining engineer, who has run mines for Cambior and also the Troïlus mine. He is very sensitive to and provides very good advice on environmental and social acceptability issues. I've been in the industry for over 30 years and have a geological engineering background. Most of my career has been with PricewaterhouseCoopers in Canada and also in the Americas. I have lots of familiarity with mining projects from exploration all the way to mine decommissioning and I've been involved with junior exploration companies for the last ten years. Sphinx is a company that we've reconstructed over the last three years to what it is today.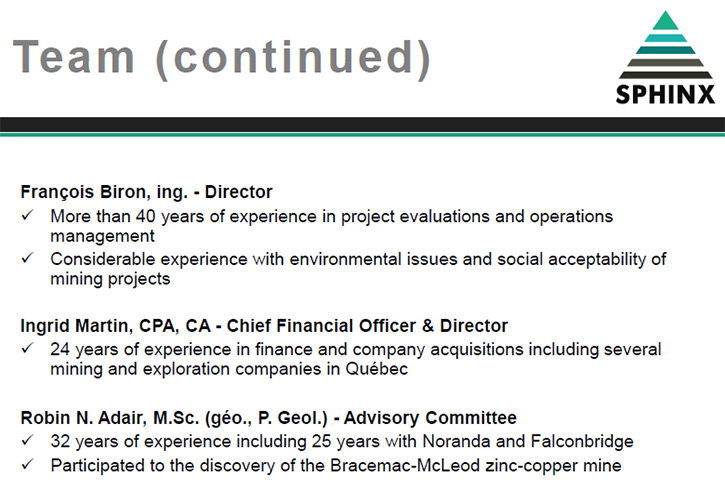 Dr. Allen Alper: That sounds excellent. Could you tell us some of the advantages of operating in Quebec?
Mr. Normand Champigny: Quebec, according to the Fraser Institute, is ranked 8th in the world. Quebec has great geology, great tax incentives and great people. You spend hard cash dollars and you get 28 to 31 percent back in the form of a check from the government. Or you can do flow- through and super flow-through in Quebec, which is one of the best in Canada. We know Quebec well because we've found mines, we have lots of experience, we know the territory well.
Our approach to project generation has been to use specific criteria. First of all, to use areas where we have good social acceptability. In other words the local population has to be supportive, they have to want mining. We're very careful about that, and we establish relationships and collaborative efforts from day one. Two, we are working in areas where it is possible to do exploration 12 months of the year. That means in, most cases, road access. It cuts the exploration costs dramatically. In Northern Quebec it is typical to see costs as high as five hundred dollars a meter to drill. Where we are, it is costing us one hundred dollars a meter to drill. It's a huge difference. Your drilling dollar can go a long way and the more drilling, the more the likelihood of a discovery.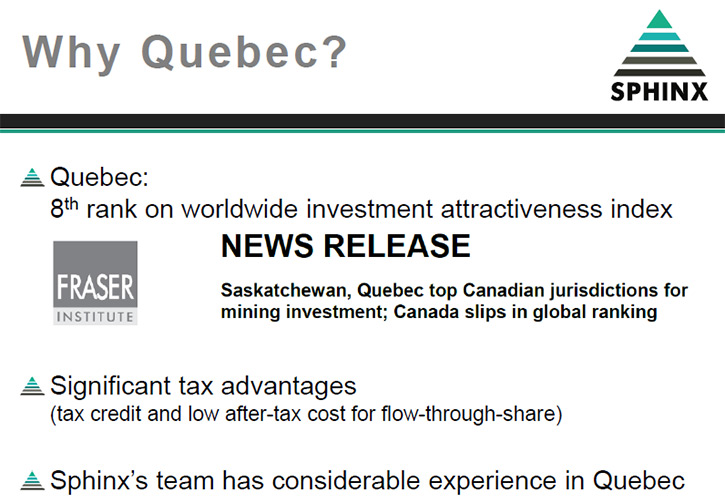 We're also focusing on the areas that tend to be overlooked in geological terms. They're known as high-grade metamorphic areas, and we're focusing on both precious metals and base metals, particularly zinc. We have lots of experience in those areas and we're not afraid to go and unravel the geology. That's the experience that our mine finders have. We apply those criteria during project selection and we look at Quebec, obviously, as we progress. We believe that we can apply the same criteria in other jurisdictions in Canada in which we'd like to operate.
Dr. Allen Alper: That's excellent. Could you tell our readers about being a project generator what the philosophy is and what are some of the advantages of being a project generator?
Mr. Normand Champigny: If you look at the performance of the TSX-V over the last ten years and you look at the graph in our corporate presentation, you can see that project generators have performed better. There's an index that has been put together by a company called Fundamental Research that shows that project generators have better performance. That can be explained by a number of factors. First, you have greater chances to find something if you have more projects. Two, you have partners that can not only supply money, but also expertise. This improves your chances of finding a mine at the same time as lowering the amount of shares you have to issue to finance the company. So these are key advantages which are being recognized. There are not that many project generator companies. We're one of them and very undervalued compared to others.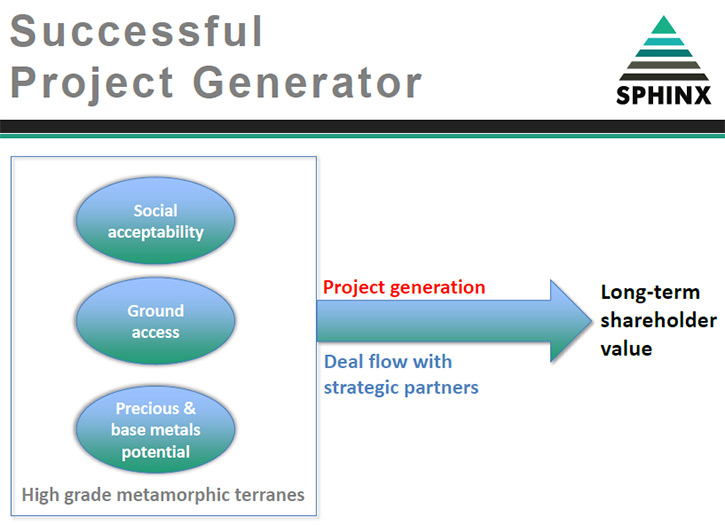 Dr. Allen Alper: Could you tell me a little bit about your share and your capital structure?
Mr. Normand Champigny: Currently we have 60 million shares outstanding. Management, insiders and the advisory board have 18 percent of those shares. We have institutions in Quebec and outside of Quebec. The total of the institutions is 18 percent of the shares outstanding. And then we have about 70 shareholders that represent 80 percent of those shares that have been issued so far.
Dr. Allen Alper: It is good to hear that the management has confidence in the company and has invested so much in it. That's excellent! What are the primary reasons our high-net-worth readers/investors should consider investing in your company?
Mr. Normand Champigny: I think it comes down to two reasons. First of all we're a project generator with a team of mine finders, and secondly we're working in Quebec.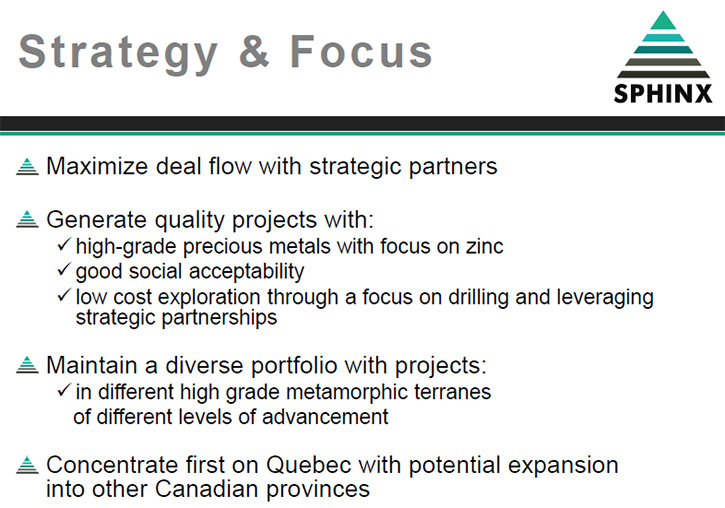 Dr. Allen Alper: Is there anything else that you'd like to add?
Mr. Normand Champigny: No, your questions were very good. Thank you very much.
Dr. Allen Alper: I enjoyed talking with you. Your company is very interesting.
2100-1000 De La Gauchetière Ouest
Montréal, QC, Canada
H3B 4W5
Telephone: 514.979.4746